LibKey Nomad - Your access to full-text journals wherever you are
Published Date: 19th April 2023

LibKey Nomad provides instant links to full-text articles on Trust PCs and laptops – but did you know you can also download it on your own *devices?
This means that you will be able to access full-text articles wherever you are and if the library doesn't hold a subscription then it will give you the option of completing a form to ask us to get it for you.
It is easy to install.
Choose your browser:





Download and install.

Select your organisation:

St Helens & Knowsley Teaching Hospitals NHS Trust OR

Primary Care and ICB staff in Halton, Knowsley and St Helens
And that's it, when you search Google Scholar or PubMed you will see links with buttons like this:

Or if you have gone straight to the journal website and the article, you will see this: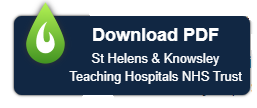 Click on either of those to get the PDF full-text of the article. You will be asked to login with your NHS OpenAthens ID the first time you download an article. From then on you won't need to sign in.
If you see:

This means that you don't have full-text access. However, if you click on it, you will be taken to a page which looks like this:


Click on Request this item and that will take you to our Document Request Form. The details of the article will already be completed. You just need to complete your details e.g. name, email etc. and submit it and we will then obtain the document for you.

*devices = PC and laptop. LibKey Nomad is not available on mobile devices. If you wish to access articles on your mobile devices please download BrowZine. For more information on LibKey Nomad and BrowZine please go to https://www.knowledge-nw.nhs.uk/find-full-text-journals.
If you don't have an NHS OpenAthens ID, registration is free and easy at https://openathens.nice.org.uk/.
If you need any help please contact us https://www.knowledge-nw.nhs.uk/contact-us
« Back