BMJ Best Practice
Published Date: 20th June 2022
BMJ Best Practice is a clinical decision support tool. It provides fast and easy access to the latest evidence-based information to support clinical decision making and ALL NHS staff have access to it using their NHS OpenAthens login details. If you don't have an NHS OpenAthens account you can register for one https://openathens.nice.org.uk/.
Rated as one of the best support tools worldwide, BMJ Best Practice includes step by step guidance on diagnosis, prognosis, treatment and prevention as well as medical calculators, how-to videos and patient information leaflets. Content includes clinical expertise from over 1,600 international authors and 2,500 peer reviewers which means you have up to date references available at your fingertips, anywhere, any time of day or night.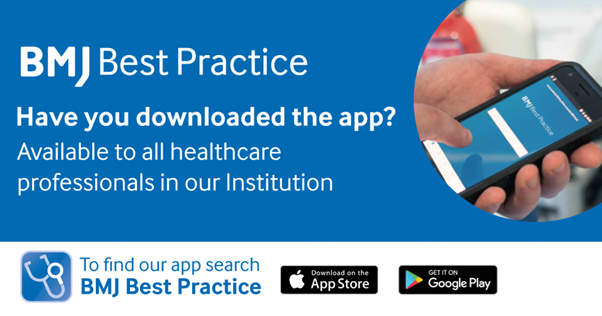 As well as accessing it via your computer, you can also access it offline via your mobile/tablet with the Apple app or Android app. Before you can download the app you will first need to:
Use BMJ Best Practice to:
Search thousands of clinical topics and over 6,000 clinical guidelines in over 30 specialties

Check prescription guidance using linked drug databases and over 250 medical calculators

Ensure your ongoing professional development, with automatic CME/CPD tracking
Features include:
Differential diagnosis and treatment algorithms

Videos covering the most common clinical procedures

400+ patient leaflets

Integrated Cochrane Clinical Answers

Case Reports

EBM Toolkit

Alerts for evidence changes
Contact the library https://www.knowledge-nw.nhs.uk/contact-us for further help/information.
« Back